Here and everywhere else, OEM stands for "Original Equipment Manufacturer." So, OEM automotive components are the official, genuine parts produced directly by your vehicle's maker. This is a straightforward definition, but what does OEM mean in practice for drivers near Cheektowaga? To answer this question, we'll need to compare OEM vs. aftermarket parts in depth.
OEM Meaning for Automotive Parts
Before we explore the reasons why drivers in WNY choose genuine parts, a little more needs to be said on the definition of OEM in the automotive world. In other industries, OEM parts might be produced by one company and sold by another under the latter's logo and branding.
In the automotive world, many OEM parts are produced directly by your vehicle's manufacturer. Alternatively, they may have been designed by the vehicle's manufacturer with a specific purpose in mind and produced by another reputable manufacturer. Either way, when you opt for OEM parts, you'll receive components designed specifically for your vehicle by the people who know it best.
OEM vs. Aftermarket Parts
There are many benefits to scheduling service at your local Basil Family Dealerships parts department. However, the fact that we carry out all repairs using genuine OEM auto parts is perhaps the most significant among them. Here's why value-conscious drivers prefer OEM parts over aftermarket options:
Aftermarket parts may be designed to fit more than one vehicle. Some may even need to be cut or modified in order to fit your model. No matter what kind of car you drive, it's a precision machine! Don't take a risk with parts that won't fit.
Those who go searching for aftermarket parts might need to spend hours searching, so you'll save tons of time by asking for genuine OEM auto parts at a dealership. We know exactly what you need, so you'll never have to worry about ordering the wrong component.
Why replace the same part over and over again? Because OEM parts are designed to fit in your vehicle, they'll stand up to wear and tear on the roads near Niagara Falls much better than aftermarket parts. What's more, most come backed by superior OEM-backed warranty coverage.
Don't let the lower price tag fool you. Aftermarket parts wear our more quickly, and what you save in cash, you're sure to lose on labor. Make the smart choice, and carry out repairs with parts you can trust.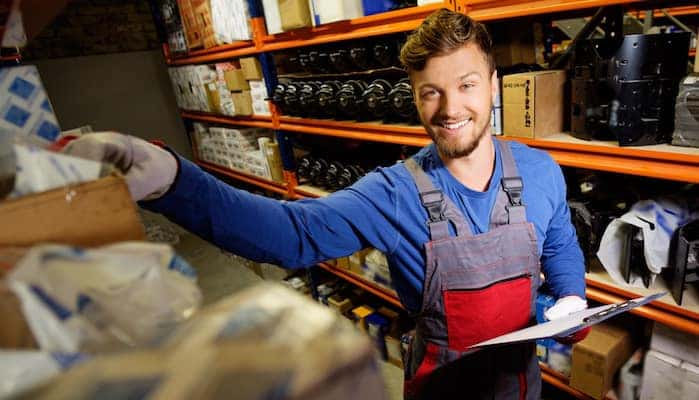 Although our technician teams specialize in OEM parts for Ford, GM, Toyota, and Volkswagen, we'll carry out all repairs with genuine parts and a professional touch. Basil Family Dealerships service centers welcome all makes and models.