Falafel are deep-fried balls or patties made from chickpeas or fava beans, sometimes both, plus fresh herbs and spices. Falafel is a popular Middle Eastern street food sold from vendors or fast-casual spots in countries such as Egypt, Syria, Lebanon, Turkey and Israel, where it's the national dish. Falafel is also a popular vegetarian and vegan food. It's served in pita sandwiches with pickles, hot sauce, tahini and vegetables such as tomatoes, cucumbers and lettuce; as part of a mezze spread with other small plates such as hummus, tabbouleh and grape leaves; or paired with salad or as a side with hummus.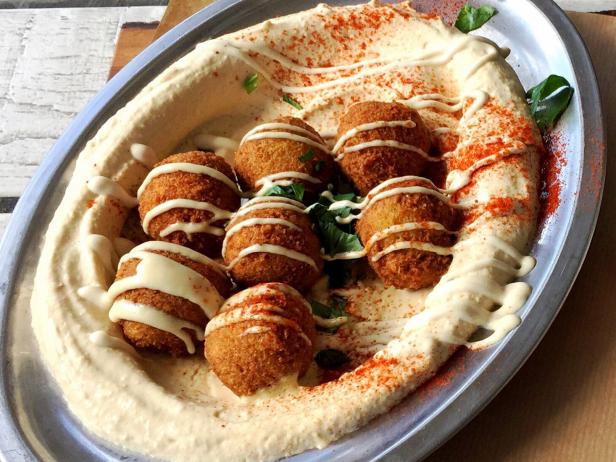 What Is In Falafel?
Falafel's main ingredient are chickpeas, though it's sometimes made with fava beans or a combination of the two. The chickpeas (and/or fava beans) are combined with fresh herbs such as parsley, cilantro and dill, spices including cumin, coriander and cayenne or crushed red-pepper flakes and aromatics such as onions, garlic and shallots. Many recipes also call for baking soda; since it's a rising agent, it helps keep falafel from becoming dense and ensures a tender, almost fluffy interior.
Falafel lends itself to experimentation, too. Different legumes, herbs or even nuts, can be subbed or added in, as with this Pea-Mint Falafel with Bulgur recipe.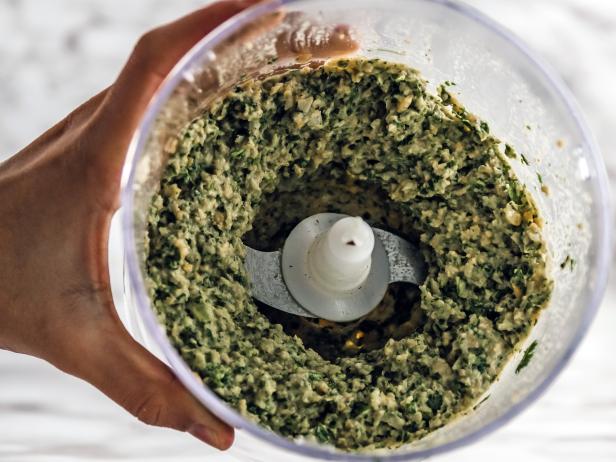 Zaineb Louchahi / EyeEm/Getty Images
How to Make Falafel
Falafel is made by combining chickpeas, herbs, spices and aromatics in a food processor to create a mixture that's formed into patties or balls and then either fried or baked. Frying falafel yields a crispier texture than baking.
For the best texture and structure, use dried chickpeas that have been soaked overnight (adding baking soda helps them to soften as they soak) and then drained. Though canned chickpeas work too, when they're mixed with other ingredients and formed into patties, they tend not to hold their shape as well when fried. Some recipes that employ canned chickpeas call for an additional binding agent such as panko breadcrumbs or an egg. If you're making a big batch of falafel and intend to freeze some, consider using dried chickpeas that have been soaked to ensure they hold their shape once thawed.
The basic steps include:
Add chickpeas (and/or fava beans), to the bowl of a food processor and pulse to break up.
Add fresh herbs (parsley, cilantro, dill), spices (cumin, coriander, crushed red-pepper flakes), onions, garlic and baking soda, and pulse until the mixture resembles coarse cornmeal.
Cover the mixture and chill in the refrigerator for at least 1 hour or up to overnight. If you're short on time, you can refrigerate for 15 minutes – but don't skip this step, which makes scooping and shaping the mixture easier and helps the falafel hold its shape.
Scoop the falafel mixture into balls (about 2 tablespoons each).
Fry the falafel in hot oil in batches until deep golden brown (1 1/2 to 2 minutes), then transfer to paper towel-lined plate to drain. Take care not to crowd the pan to keep the oil hot and ensure crispy falafel.
Alternatively, bake the falafel in the oven (about 25 to 30 minutes at 375 degrees F, flipping halfway through baking). If baking in an air fryer, consider shaping falafel into small patties or flattening balls into discs so they lay flat in the basket and cook evenly.
You can also purchase packaged falafel mixes, which typically require combining the dry mixture with water to rehydrate. Then form the mixture into patties or balls and follow the package's cooking instructions.
Is Falafel Healthy?
Since falafel's main ingredient is chickpeas, it's high in fiber and a good source of plant-based protein. Chickpeas are also chockfull of B-vitamins and minerals such as iron, magnesium, potassium and zinc. When falafel is fried, it increases calories and fat content. For a lightened-up take, try baking falafel in the oven or air fryer.
Is Falafel Vegan?
Since falafel is prepared with chickpeas, herbs, spices and alliums, it is vegan. However, falafel is sometimes served in wraps which may not be vegan, or with yogurt- or dairy-based sauces, so be sure to seek out vegan-friendly accompaniments. If you purchase a packaged falafel mix, look for labelling that says "vegan" or check the ingredient list to ensure that it doesn't contain dairy, meat or eggs, and that it's been processed in a dairy-, meat- and egg-free facility.
Falafel Recipes
Falafel is an easy dish that can be whipped up with a few ingredients in a relatively short amount of time (soaking dried chickpeas is usually the longest step). Falafel's serving options are versatile, too. Serve them on a Mezze Plate, as a dipping implement for hummus or toum (a Lebanese garlic sauce and dip), paired with an Israeli Tomato Salad for a light lunch, to add vegetarian protein to salads, such as this Couscous Salad with Tomato and Mint, or stuffed into pita pockets with a drizzle of tahini and hot sauce.
Falafel's flexibility makes it adaptable to unconventional applications such as Waffled Falafel or Falafel-Crusted Chicken.
Here are our favorite easy falafel recipes.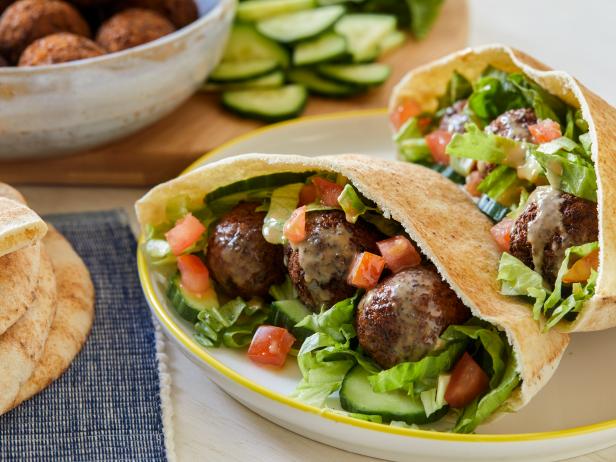 Teri Lyn Fisher
This basic recipe is a cinch to master. You'll need to plan ahead to allow time to soak the chickpeas, but the mixture comes together easily and yields crispy, perfectly seasoned falafel. For a weeknight dinner winner, stuff the crispy falafel into warm pita pockets with cucumbers, tomatoes, lettuce, a drizzle of tahini and a dash of hot sauce.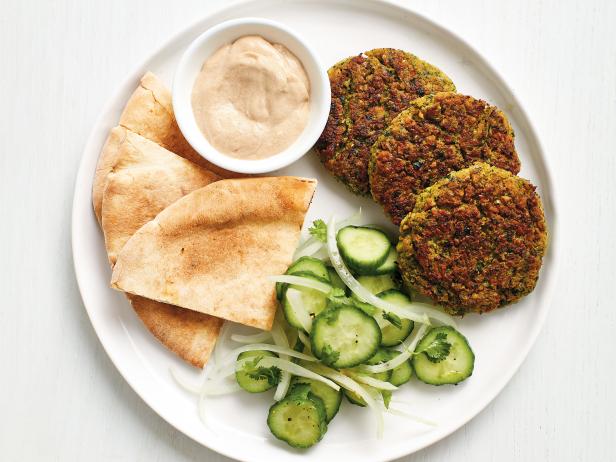 RYAN DAUSCH
Baked Falafel with Cucumbers and Tahini
This recipe employs canned chickpeas instead of dried, which helps cut down on prep time. The mixture also calls for the addition of panko crumbs to help bind the mixture and ensure the patties keep their shape. Serve with Tabouli Salad or as part of a grain bowl with roasted eggplant or other veggies.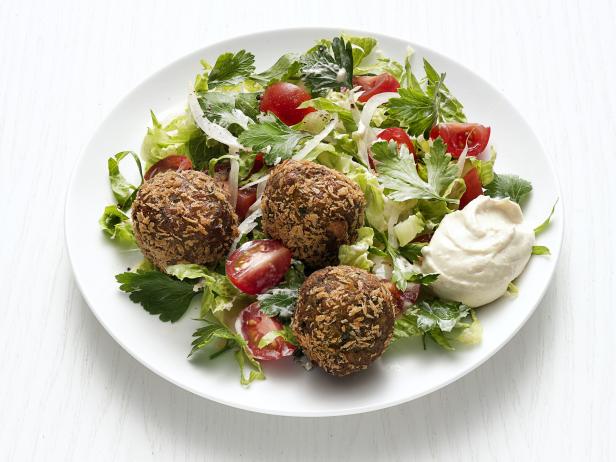 Charles Masters
Falafel Salad with Hummus Dressing
The falafel mixture benefits from a quick chill time, which helps makes it easier to scoop and shape into balls. Though unconventional, we love the extra hit of texture from rolling the falafel in panko crumbs before frying. A creamy hummus-yogurt dressing makes an ideal cooling counterpoint to the crispy, hot falafel.
Consider these stuffed falafel balls your next appetizer party trick. The recipe smartly employs a falafel mix to cut down on prep time. Then, once the falafel are formed, they're stuffed with a feta-pepper mixture, chilled and fried till crispy outside and melty-cheesy inside.
Shake up your veggie burger routine with a falafel-fied take. Canned chickpeas are combined with typical ingredients such as garlic, cilantro and cumin, but we love the zippy addition of scallions and pickled peppers – proof that falafel lends itself to creative riffing.