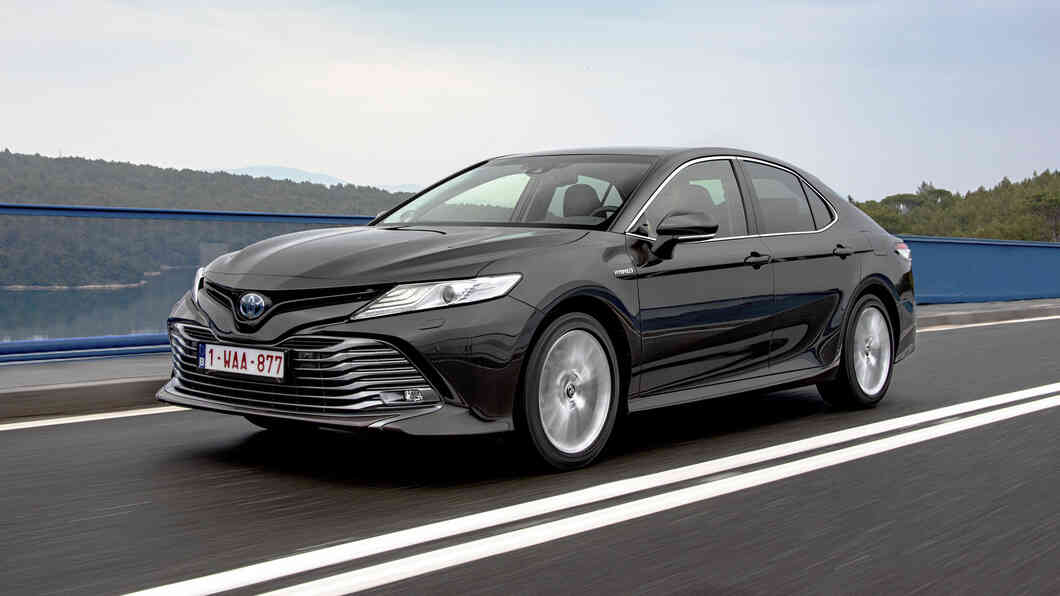 A car with more than one propulsion system is generally known as a hybrid car, and it consists of a combination of petrol or diesel engine with an electric motor.
Individuals planning to get their hands on such a model must have thorough knowledge about what a hybrid car is, its working, features, and sub-categories.
If you are someone looking for the same, read on to know more about this four-wheeler type!
What is a Hybrid Car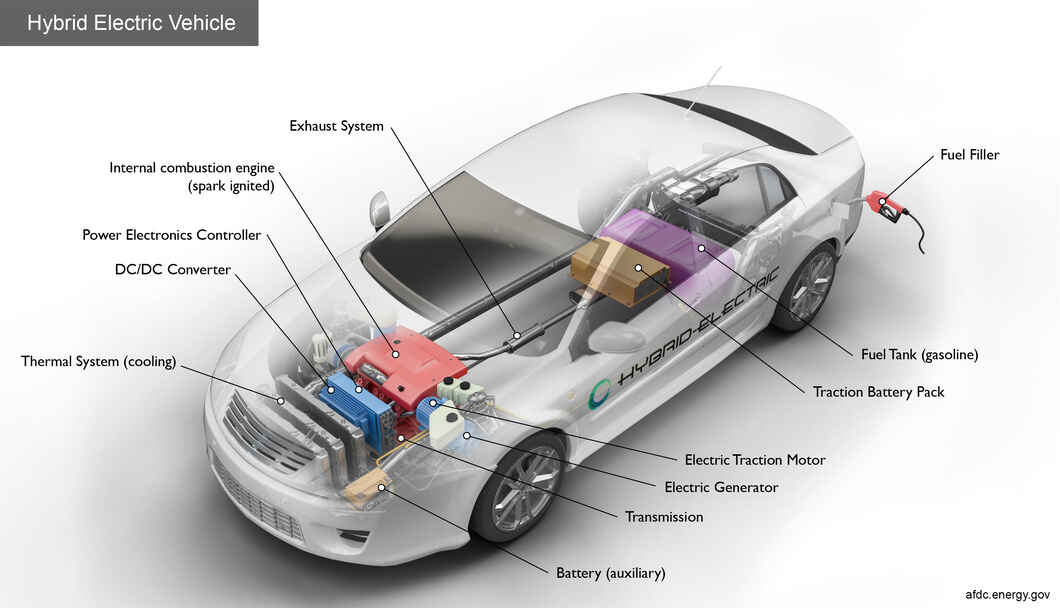 In a hybrid car, the system recollects energy via regenerative braking. As a result, the amount of gasoline used is less due to its dual operating mechanism.
The operating mode can be changed and shifted while driving, which means the car can alter between a gas engine and an electric motor. Sometimes, it can use both to enhance the car's performance.
A hybrid car comes with a dual battery pack, consisting of a 12-volt conventional battery pack and a high-voltage battery pack. Usually, deceleration in a conventional car turns kinetic energy into heat. However, a hybrid four-wheeler uses regenerative braking to transform the kinetic energy lost when slowing down into electric power to replenish its battery pack.
Now that you know what is meant by a hybrid car, it is time to understand its working in detail.
How Do Hybrid Cars Work?
Following is a brief overview of the top 5 mechanisms to help you understand how a hybrid car works –
1. Pulling Away From the Stop
The car is moved initially with the help of an electric motor, which draws on the hybrid battery for power.
2. Normal Cruising
When cruising at high speeds, both the electric motor and petrol engine can work together or independently.
3. Heavy Acceleration
During heavy acceleration and high speeds, the power provided to the car comes from the petrol engine.
4. Braking and Deceleration
When slowing down and braking, kinetic energy turns into electric energy to replenish the battery pack. Also, the car's electric motor goes into a reverse mode upon applying brakes, causing its wheels to slow down.
5. Coming to a Complete Stop
Both the petrol and electric motors shut down when the vehicle comes to a stop. However, its battery still keeps working, allowing vehicle systems, such as light, air conditioning, and radio to run.
When looking for petrol hybrid cars following the above mechanisms, you might come across numerous SUVs.
If in a dilemma, go for hybrid SUVs such as MG Hector and Mahindra Scorpio to experience the ultimate thrill with optimum performance.
What Are the Types of Hybrid Cars?
Here is a detailed discourse on the different categories of hybrid cars available in the market. Have a look!
Mild Hybrids
Mild hybrid is one of the newest innovations in hybrid technology. The mild hybrid system provides a slight boost to the vehicle's gasoline engine, usually when the car is accelerated from a dead stop.
These engines do not require to be plugged in and are found in 48-volt electric systems since they acquire energy from the combined power of a gasoline engine and regenerative braking.
Some common mild hybrid systems are eAssist, eTorque and EQ Boost.
Full Hybrids
Full hybrids sport both electrical components and a gasoline engine. However, the electric component in hybrid cars can handle more workload than that in a mild hybrid.
There are two types of full hybrid cars, generally known as parallel and series hybrids.
1. Parallel Hybrids:
Parallel hybrids use both the electric motor and engine to propel the wheels. Also, transmission can be automatic, manual and continuously variable or CVT.
Here, the main factors that determine how a parallel hybrid will accelerate, sound, and feel are the gasoline engine's transmission type and size.
2. Series Hybrids:
Here, the driving experience is more like an electric car since an electric motor is the sole source of power.
The gasoline engine is present in this mode only to charge its battery. Also, the electric generator is driven by the combustion engine instead of the driving wheels, resulting in a smoother and more powerful acceleration.
An example of a series hybrid car is the BMW i3, which also comes under electric hybrid cars.
Plug-in Hybrid
You must have come across the term "plug-in" when researching what a hybrid car is.
Like an electric car, a plug-in hybrid vehicle also contains a larger battery pack that needs to be charged via an external source that offers an all-electric drive for approximately 15 to 55 miles. The car reverts back to a conventional parallel hybrid after running out of all the electric energy.
Few Examples of plug-in hybrid cars are BYD F3DM, Toyota Prius, and BMW i8.
Once you have a detailed understanding of the hybrid car types, read about its features and benefits.
What Are the Features and Benefits of a Hybrid Car?
Following is a list of the beneficial features of hybrid cars –
Idle-off
Incorporating a secondary electric motor provides a considerable number of benefits to the vehicle that includes "idle-off."
It means that the car is operational even when the main engine is turned off. As a result, features like air-conditioning, radio and others are operated via batteries.
Quick Acceleration
This feature in hybrid car technology allows the car to alter from an electric motor to the main engine when more power is required. This is more common when travelling uphill.
Power Assist
A significant hybrid car benefit is its potential to downsize the primary engine, leading to better fuel economy.
Many hybrid cars use electric motors during start-up and initial stages of the acceleration till they reach higher speeds. After this, they use gasoline engines to enhance fuel efficiency.
Regenerative Braking
This is one of the best features found in hybrid cars. Regenerative braking allows kinetic energy to convert into electric energy that recharges the battery unit.
The engine in reverse mode is run by a forward movement of the vehicle's wheels. This helps reduce the car's speed and recharge at the same time.
Full-electric cars are on the rise right now, which completely run on electric motors. Companies like Tesla Motors are very promising in this field, and their cars allow lower emissions of harmful gases.
However, we shall continue with our discussion on what a hybrid car is as the next best option to fully electric cars.
Which Technology Is Used by Hybrid Cars?
Want to know about the technology behind hybrid cars?
Keep reading!
| | |
| --- | --- |
| Component | Function |
| Battery | Provides electricity to start a car and its accessories. |
| DC/DC Converter | Converts higher-voltage DC power from a battery pack to lower-voltage DC power to run vehicle accessories. |
| Electric Generator | Helps generate energy from the wheels during acceleration and deceleration, which gets stored in a battery pack. |
| Electric Traction Motor | The motor drives vehicle wheels via power from a traction battery pack. |
| Exhaust System | It acts as a medium to release exhaust gases from an engine through a tailpipe. |
| Fuel Filler | It is a nozzle that gets attached to the receptacle of a vehicle, which allows in filling a tank. |
| Fuel Tank | It stores the gasoline on board which might be useful later on. |
| Internal Combustion Engine | Fuel is inoculated into either manifold or combustion chamber. After this, it combines with air and ignites by sparks to form a spark plug. |
| Power Electronics Controller | It manages the flow of this electrical energy, which the traction battery develops, hence controlling the speed and torque of the electric traction motor. |
| Thermal System | This system helps maintain an optimal temperature of the engine, electric motor, power electronics and other components. |
| Traction Battery Pack | This facilitates the storage of electricity that electric traction motors use. |
| Transmission | It helps to dispatch mechanical power from an electric motor to operate the wheels. |
What Are the Advantages and Disadvantages of Hybrid Cars?
Here are the pros and cons of a hybrid car –
Advantages
Environment-friendly
Financial benefits due to lesser fuel cost incurred
Less dependence on fossil fuels
Regenerative braking system
Built from lightweight materials
Electric motor assistance
Smaller engines
Automatic start and stop
Electric-only drive
Disadvantages
Lesser power generation
Hybrid car price is on the higher side
Poor handling
High maintenance cost
High voltage batteries can cause accidents
Expensive battery replacement charges
Inconvenience of battery disposal and recycling
Issues faced in hydrogen fuel cell
List of Top 5 Hybrid Cars in India
| | |
| --- | --- |
| Hybrid Cars in India | Starting On-road Price in Delhi |
| Toyota Camry | Around ₹ 48 Lakhs |
| Mahindra Scorpio | Around ₹ 17 Lakhs |
| MG Hector | Around ₹ 16 Lakhs |
| Toyota Glanza | Around ₹ 8 Lakhs |
| Maruti Suzuki Baleno | Around ₹ 7.5 Lakhs |
[1] In conclusion, it is safe to say that a hybrid car is worth buying, given its numerous features and benefits. Individuals must take all the above information into consideration before proceeding with a hybrid car purchase.
Frequently Asked Questions
✓ What is good about hybrid cars?
✓ Are hybrid cars different from electric cars?
Disclaimer: The information and prices mentioned here are for a specific city and vehicle model. They may change as per time. Please check the details completely before you buy a vehicle or a policy.
This information is added only for the informative purpose and Digit Insurance is not promoting or recommending any specific vehicle or brand in any way.
More articles about Top Car Models in India
Best Mileage Diesel Cars in India
9/10 Seater Cars/SUVs in India
Best NCAP Rating Cars in India
Best Mileage Petrol Cars in India
Best Cars in India Under 15 Lakhs
Upcoming Hyundai Cars in India
List of Upcoming Cars in India
Upcoming Hatchback Cars in India
Upcoming 7 Seater Cars in India
Upcoming Electric Cars in India
Best Cars under 5 Lakhs in India
Best Cars in India under 10 Lakhs
Difference Between Petrol Cars and Diesel Cars
Difference Between CNG and Electric Cars
Top 7 Convertible Cars in India
Car Insurance for popular brands in India